Tasca Automotive Group was founded in 1943 by Bob Tasca, Sr.  In 1953 Bob opened the original Tasca Ford in Bristol, Rhode Island.  Just one year later this dealership was completely destroyed by Hurricane Carol.  Bob relocated and ultimately opened up the new Tasca Ford at 777 Taunton Avenue in East Providence, Rhode Island.  It was here that Bob and his team became the second largest Ford dealership in the world in the 1960's.  This was also the birthplace of the Tasca Racing program and many historic muscle cars such as the Ford Cobra Jet, Tasca Street Boss, and Mystery race cars.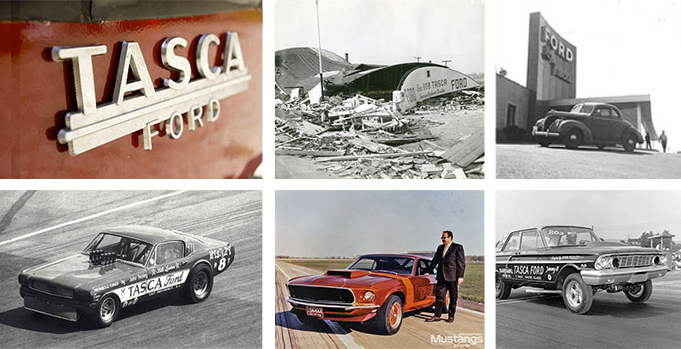 Bob opened Tasca Lincoln Mercury in Seekonk, Massachusetts in 1972.  TLM became the highest volume Lincoln Mercury dealership in the world in 1986, and repeated again in 1987 and 1988 while also winning the Ford President's Award for outstanding customer satisfaction.  This fulfilled Bob's dream of saying "None Bigger, None Better."  It was also at the Seekonk store that Bob launched the innovative Pre-Trade program, pioneering the concept of short term trade cycles and leasing.  He was also joined in the business by his three sons, thus fulfilling another of his dreams to build a successful family business. 

In 2002 Bob opened his flagship dealership in Cranston, RI.  Featuring Ford, Lincoln, Mercury, Mazda, and Volvo the Cranston location was one of the most high tech and largest facilities in the country.  It featured amenities such as drive in service write up, an in house Italian café, drive through carwash, and spacious customer lounge.  It was at this time that Bob was joined in the business by his grandsons and granddaughters, continuing his dream of a family business.  When Bob Tasca, Sr. passed away in 2010 he left a proud legacy of honesty, integrity, and customer satisfaction.

The Tasca family is now a fourth generation family owned and operated business, one of the oldest in the nation. We've grown to include Chrysler, Dodge, Jeep, Ram, Fiat, Buick, GMC, and Cadillac.
We have locations in Rhode Island, Massachusetts, Connecticut, Illinois, Florida, and New York.  Racing is still a very large part of our lives with Bob Tasca III piloting the Motorcraft/Quicklane NHRA Nitro Funny at over 330 MPH and Carl Tasca, Sr. racing his record-setting Ford Cobra Jet at events across the country.  While we will continue to grow, we remain committed to the timeless values and principles of our founder.  We are grateful to the members of our team who work so hard on a daily basis to serve our customers.  We are thankful for the generations of loyal customers who have trusted us our family for all their automotive needs.  We humbly pledge to continue the Tasca Family Commitment that YOU WILL BE SATISFIED